ELECTION DAY - NOVEMBER 6, 2018 - POLLS OPEN 6:00 AM TO 9:00 PM
RIDES TO THE POLL HOTLINES:
845-513-6857

(Warwick, Tuxedo, Port Jervis, Mount Hope, Wallkill, Goshen, Wawayanda, Hamptonburgh, Minisink, Greenville, Deerpark)

 
845-590-2508

(City of Middletown)

 
516-400-2695

(Newburgh, Montgomery, Crawford, Blooming Grove, Chester, New Windsor, Cornwall, Woodbury, Highlands, Monroe)

 
845-561-1741

(Back-up - City of Newburgh)

 

 
---
---
TUESDAY, AUGUST 28, 2018 6:00 PM-7:30 PM - AT THE SKOUFIS/RETTIG CAMPAIGN OFFICE

JOIN US TO LEARN ABOUT THE MANY BENEFITS OF UTILIZING VOTEBUILDER'S "MINIVAN" APP, INCLUDING CREATING LISTS, MAPPING WA
LKING DISTRICTS, AND REPORTING VOTER CONTACT.   THE PRESENTATION WILL BE PUT ON BY "VAN EXPERTS" FROM THE NYDEMS. 

THE SKOUFIS OFFICE IS LOCATED AT 115 TEMPLE HILL RD., VAILS GATE, NY 12548.  BRING AN IPHONE, ANDROID OR TABLET FOR BEST RESULTS.   
---
---
---
---
---
FROM THE WOODBURY DEMOCRATIC COMMITTEE
---
UPCOMING EVENTS FROM OCDW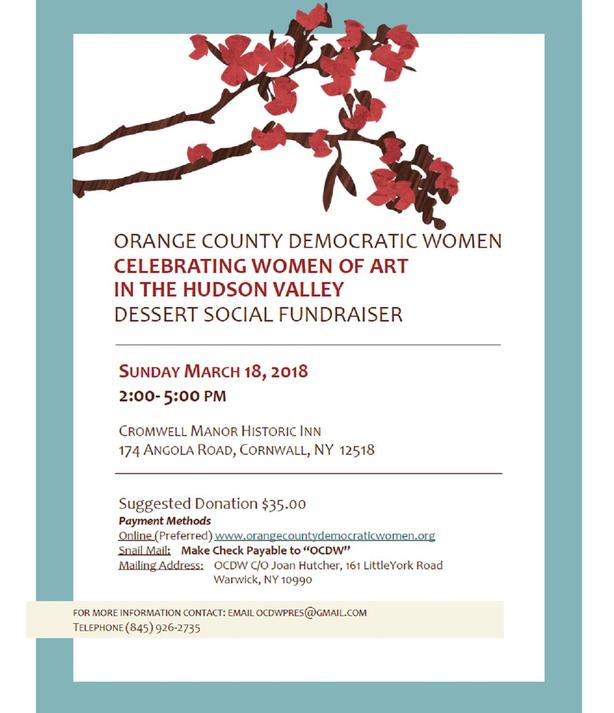 ---
UPCOMING EVENTS

:
-
-
Tuesday - March 13, 2018, 7:30 PM at Limoncello Restuarant in Goshen, NY - Orange County Democratic Committee Executive Committee Meeting
---
---
NY Assemblyman Skoufis Supports Pat Davis for County Executive
---
---
---
CHECK OUT THE 2017 SLATE OF DEMOCRATIC CANDIDATES FOR COUNTY OFFICE AT OUR CANDIDATES PAGE
---
---
---
From time to time we receive inquiries and requests for info that come in without contact information.  One recent request linked to Facebook, but that page is limited by the owner, so there is no way for OCNYDems to respond.  Please give your e-mail when contacting us.  It can't be seen by other readers of the site.  To find the time and place of the next local meeting, or to speak with the head of your local committee, click on the "City and Town Committees" tab at the top of the Home page and follow the drop-down menu for your location.
---
Dear Friends & Neighbors,
Each summer, I bring my office to your local community as part of my continued effort to be as accessible an Assemblyman as possible. I'm delighted to share this year's "Skoufis on Your Street" schedule: 
> Friday, July 21, 12:30pm-2:00pm: Betty's Country Kitchen, 32 W Main Street, Washingtonville 
> Friday, August 11, 11:30am-1:00pm: 2 Alice's Coffee, 311 Hudson Street, Cornwall-on-Hudson
> Saturday, August 12, 10:00am-11:30am: Jay's Deli, 534 Route 32, Highland Mills
> Tuesday, August 15, 11:30am-1:00pm: Andy's Diner, 281 Main Street, Highland Falls
> Tuesday, August 22, 11:30am-1:00pm: Elsie's Luncheonette, 128 W Main Street, Goshen
> Thursday, August 24, 11:30am-1:00pm: Lynch's, 79 S Liberty Drive, Stony Point 
Anyone with questions regarding "Skoufis on Your Street" events or any other community issue should always feel free to call our office at 845-469-6929, or send me an email at SkoufisJ@nyassembly.gov. Thank you for affording me the privilege to serve you. 
James Skoufis
---
 PLEASE SUPPORT THE FAMILIES OF THOSE STATIONED AT STEWART
WHO LOST THEIR LIVES THIS PAST WEEK SERVING THE AMERICAN PEOPLE
On July 10 a Marine Corps KC-130T Hercules crashed in Leflore County, Mississippi, killing 15 Marines and 1 sailor on board. The disaster was the single worst loss of life in Marine aviation since 2005. Help us by donating, and proceeds go directly to the squadron families without fee from us. You will help fund things like airfare, hotels, rental cars, meals, and even unit memorials.
The "Yankees" are a Reserve Marine Corps KC-130T Hercules squadron based at Stewart Air National Guard Base, about an hour north of New York City. The aircraft was transporting a Marine Special Operations unit from the 2nd Marine Raider Battalion, based at Camp Lejeune, NC, to NAF El Centro, CA, when the mishap occurred.
The families and squadron affected by this mishap have given The Wingman Foundation their full support in launching a fundraiser to help with current and future expenses. Rest assu
red that 100% of all donations will go to those affected.  Lend support by clicking here:  http://bit.ly/2umMdei
---
Today (June 22), I granted clemency to Carlos Cardona, a Ground Zero recovery worker from Queens who is currently being detained by federal immigration officials.
In the more than 30 years since Mr. Cardona has lived in this country, he has built a family and given back to his community, including in the aftermath of 9/11 when he assisted with Ground Zero recovery efforts at the expense of his own health. It is my hope this action will not only reunite Mr. Cardona with his wife and daughter, but also send a message about the values of fairness and equality that New York was founded upon.
By granting clemency, there is no longer valid ground to deport Mr. Cardona. New Yorkers like you need to stand together and call for his release from custody. Will you add your name in support now? Click here now >>
A civic-minded New Yorker, Mr. Cardona worked as a cleanup and hazmat recovery worker rehabilitating Ground Zero after the 9/11 attacks on the World Trade Center.
He spent four months removing hazardous material from the wreckage in order to make a safer space for other recovery workers and neighbors of the disaster site. He went on to marry an American citizen who is also a former Ground Zero recovery worker. Cardona's 19-year old daughter is currently in college working toward earning a degree to teach elementary students.
New Yorkers like Mr Cardona should be celebrated for their sacrifices, not arrested and split apart from their family. Granting clemency for his non-violent arrest in 1990 should remove grounds to deport Mr. Cardona.
Mr. Cardona should be immediately released from custody. Add your name now to call on federal immigration authorities to release Mr. Cardona and reunite him with his family.
New York will always protect the rights of immigrants in our state.  Thank you for your support, ever upward,
Governor Andrew M. Cuomo
---
CONGRATULATIONS TO ALL OF THE 2017 CANDIDATES WHO RECEIVED ENDORSEMENTS AT THE ORANGE COUNTY DEMOCRATIC CONVENTION ON MAY 31
Patrick James Davis – Orange County Executive
Deborah Mulqueen – Orange County Clerk
Michael Isgur – Orange County District Attorney
Endorsed Democratic Candidates for Orange County Legislature
Orange County Legislative District 2- Ken Pinkela
Orange County Legislative District 3 – Patricia McMillan
Orange County Legislative District 4 – Omari Shakur
Orange County Legislative District 5 – Stephen Hunter
Orange County Legislative District 6  - James Kulisek
Orange County Legislative District 7 – Myrna Kemnitz
Orange County Legislative District 9 – Kevin Mulqueen
Orange County Legislative District 10 – Mercedes Tartanian
Orange County Legislative District 12 – Virginia Scott
Orange County Legislative District 14 – Laurie Tautel
Orange County Legislative District 15 – Sylvia Santiago
Orange County Legislative District 18 – Roseanne Sullivan
Orange County Legislative District 19 – Mike Paduch
Orange County Legislative District 20 – Joel Sierra  
---
---
Save the date for the  Orange County Democratic Committee Annual Dinner
June 4, 2016 from 5 to 9 PM at Villa Venezia, Middletown, NY
Contact Mickey Morgano at mickeymorgano@gmail.com about sponsorship opportunities
Keynote Speaker:  Thomas P. DiNapoli, Comptroller of the State of New York
Orange County Democratic Committee Labor Award:
Ron Diaz, Plumbers UA 21, President of the Hudson Valley Area Labor Federation
Distinguished Service Award Recipients:
Robert Fromaget, Town of Blooming Grove Committee member and Blooming Grove Town Supervisor
Andrea Nilon, Town of Crawford Committee member and 2017 Orange County Women of Achievement Recipient
Spotlight Award:
Pramilla Malick, 2016 Democratic Nominee for the New York's 42nd Senate District
---
 Read the story in The Nation:
Led by our own ORANGE CO. DEMOCRATIC WOMEN, 120,000 Americans across the country demanded Trump's taxes on April 15.  More at http:/bit.ly/2oZ5eAo
---
PETITION FOR A REPRESENTATIVE ORANGE COUNTY GOVERNMENT
We, the undersigned, being residents and taxpayers in Orange County, are angered by the recent behavior witnessed in the Orange County Government.  The Legislature and the County Executive's office have demonstrated an abuse of representative government both in their behavior and their remarks. 
There have been comments by the Chairman of the County Legislature and by the County Executive which disrespect their colleagues and members of the public.  Our government's job is to represent ALL Orange County residents. Orange County taxpayers deserve a County Government that operates in a professional manner, that represents ALL the people in the County regardless of their party or beliefs. 
To rebuild faith in County Government, including the Executive and Legislature Branches, the undersigned taxpayers urge our representatives to adopt a resolution with the following key points.  Further, we expect that every Legislator and County Administrative Officer signs on to it.  The undersigned request: 
• That Legislative powers be shared based on qualifications and not partisanship.
• That the business of County government be completely transparent.
• That the public has the opportunity to address issues before they are decided.
• That there is openness about appointments to committees, about consultants and about hiring staff to ensure  there is proper vetting, avoidance of conflicts of interest and nepotism.
• That conflicts of interest, or even the perception of such, are openly disclosed.
• That staffing vacancies are filled based on qualifications and experience.
• That openings on committees that accept volunteers are better advertised so the public knows how to apply.
 • That information is provided to all lawmakers well in advance of any required action to ensure that decisions are based on all relevant facts.
•That each Legislator has the time to review all relevant facts prior to casting a vote.
---
April 4, 2017
Last night, the New York legislature officially passed the 2018 budget. I am proud of this budget because it puts middle class families first. It also upholds the values that make New York a national progressive leader with policies that raise the age of criminal responsibility and provide tuition-free college to middle class New Yorkers.
With Washington in turmoil, it's more important than ever that New York leads by example. This spending plan is proof that, even with a divided government, when you put people ahead of politics, the results are transformative.
This budget continues my record of fiscal responsibility, holding spending growth at 2 percent for the 7th consecutive year while reducing taxes, making historic investments in education, creating good-paying jobs and rebuilding New York's infrastructure.
We also raised the age of criminal responsibility in our state so that 16 and 17 year olds will no longer be prosecuted as adults. Young people who commit non-violent crimes will now receive the intervention and evidenced based treatment they need -- something every New Yorker can be proud of. 
See some of the major achievements included in this budget and how we prioritize spending to benefit all New Yorkers. Watch this video now and see how New York is working for you.
This plan takes into consideration the needs of all New Yorkers, and includes a number of comprehensive measures to strengthen communities across the state.
Here are just a few of the major achievements signed into law last night:
Raises the age of criminal responsibility to 18
Establishes the Excelsior Scholarship to provide tuition free college for families making up to $125,000 per year
Reduces taxes to record lows for middle class New Yorkers
Invests record levels in education aid
Protects New Yorkers from soaring prescription drug costs
Funds a comprehensive plan to protect New York's water
Expands ride sharing across New York
Provides budget flexibility to react to potential loss of federal aid
Please watch and share this video highlighting how the budget delivers real results for New Yorkers.
I will continue to build on our progress and ensure that every New Yorker has the resources needed to succeed. Thank you for your support.
Ever upward,
Governor Andrew M. Cuomo 
---
---
Dear friends and neighbors, 
Orange County officials are considering dropping their involvement in the lawsuit challenging Kiryas Joel's attempt to annex neighboring land. We cannot afford politics as usual so please sign the petition at the link below and join me in urging local officials to continue fighting for us:

Assemblyman Skoufis' Annexation Petition
I've strongly opposed Kiryas Joel's annexation bid since day one because of its unprecedented nature and detrimental repercussions to neighboring communities. We need to tell Orange County to do the right thing: do not drop the lawsuit! The deadline to file an appeal and continue our legal fight is March 20th so time is of the essence: sign our petition and share it with your neighbors! 
With gratitude,
James Skoufis
---
---
---
GIVING DAYS:  EVERY THIRD FRIDAY on April 21, May 19, June 16 from 9 am -12 pm, LINE FORMS 8 am
For Families in Need:   BRING 4 - 5 TOTES and WE WILL LOAD YOU UP!
WHILE SUPPLIES LAST, CHOOSE FROM: 
Meat, Eggs, Deli Meat, Frozen Entrees, Margarine, Milk, Fruits & Vegetables, Rice, Soup, Condiments, Cereal, Juice, Pasta, Vitamins, Cookies, Snacks, Candy, Toilet Paper, Soap, Band Aids, Hygiene Items, Cleaning Supplies, Housewares, Baby Items, and more
SPECIAL:  LOTS OF CLOTHING 
St. Mary's Church at 180 South Street, Newburgh, NY 12550
In Mannix Hall of the old St. Mary's School, now the Head Start Building.  Use gym entrance in back.  PARK ON SOUTH STREET OR GIDNEY AVENUE.  Cars in upper Head Start parking lot will be towed.
ONE MEMBER PER HOUSEHOLD ONLY.  PLEASE BRING AN ID AND ANY KIND OF BILL WITH YOUR ADDRESS ON IT.  You  need not be a Newburgh resident. 
EVERY THIRD FRIDAY: April 21, May 19, June 16 
Blessings!  St. Mary's Outreach: 845-541-8144
---
January 30, 2017
Dear Friends & Neighbors,
I would like to first sincerely wish everyone a very happy, healthy, and successful new year. I hope it has already gotten off to an enjoyable start.
I count myself privileged and honored to continue serving you in the State Assembly. As the 2017 legislative session gets underway, I would like to look back at the past year's accomplishments as well as what's to come. 
Reducing the Middle-Class Tax Burden
During last year's legislative session, I strongly supported the successful effort to reduce the middle-class income tax rates to their lowest levels in 70 years. I also successfully backed extending the property tax cap which has kept a lid on large tax hikes since its enactment. 
Nonetheless, the middle-class continues to get slammed from all sides, and I will continue to fight for additional relief. That's why I support a proposal that renews the soon-to-expire millionaire's tax on individuals making over $1 million and, furthermore, increases the tax rates for those making over $5 million annually. I feel it is equally as important to apply much of this additional revenue towards further reducing the middle-class tax burden. 
Making Education a Priority
Over the past four years in office, I am proud to have delivered a 20% increase in state aid to our local schools. Getting our fair share from Albany means smaller classroom sizes, restoring programs, and reducing the need to fill gaps with higher property taxes. 
Last year, I also led the fight to freeze SUNY and CUNY tuition rates, defeating a proposal by the Governor to continue hikes for another five years.
There's now an important debate in Albany to make our public colleges tuition-free. While the Governor's proposal is all smoke and mirrors, helping just three percent of students, I will continue pushing to make college more affordable for everyone in our middle-class, not just a tiny, select few. I believe it's imperative we have a well-educated 21st century workforce that isn't saddled with mountains of student debt at the start of their post-college life. 
Holding the Village of Kiryas Joel Accountable
Every community in New York State ought to be required to follow the same set of laws. That includes the Village of Kiryas Joel. 
That's why I authored and introduced my annexation oversight legislation when KJ eyed an unprecedented land-grab of neighboring land. Kiryas Joel leaders hired Albany's top lobbyists to defeat the bill but I overcame their efforts to pass it - the first time legislation has ever been passed over active opposition from KJ. As we all know, Governor Cuomo sold out the Hudson Valley with his vetoes - but I remain undeterred. 

I'm grateful so many municipalities alongside the nonprofit Preserve Hudson Valley are continuing to pursue legal action against Kiryas Joel's land-grab. I support their efforts and will not personally stop until fairness is realized. 
I also support the legal efforts of Woodbury, Cornwall, and Cornwall-on-Hudson to prevent KJ's Mountainville well from sucking the local aquifer dry, adversely impacting the residents of these communities. If the courts fail to realize the harm activating this well will cause, I will do everything possible to ensure safeguards are put in place for local residents with private wells.
Investing in our Infrastructure
Improving our roads, bridges, water, and sewer infrastructure has always been a top priority of mine as a member of the Assembly's Transportation Committee.  2016 saw the completion of Route 207's rehabilitation in Goshen, a project I secured funding for the year prior. About four miles of Route 32 along the northern end of Woodbury was also repaved with a grant I delivered. 
After a long wait - nearly two decades - the Exit 131 interchange near Woodbury Common will finally be getting the enhancement the region has been waiting for. In last year's state budget, I pushed to lock down $115 million in the Department of Transportation's five-year capital plan for the project; we also received the welcome news this month that the project's start date has been accelerated to November of this year. Some of the highlights include widening Route 32, a ramp to seamlessly take traffic directly onto the Thruway in lieu of the current left-hand turn, the removal of traffic lights, and improvements to Route 6 and Nininger Road. The project will also create over 500 construction jobs. 
Some of my priorities for 2017 including improving Route 32 heading towards "Five Corners" in Vails Gate and rehabilitating the intersection of Kings Highway and Route 17M in Chester. In Goshen, I remain convinced that a fly-over from Route 17 is critical to mitigating local traffic if Legoland is approved.

This summer, phase two of the Palisades Parkway project I secured funding for picks up where the repaving left off near the bookstore and continues down to Exit 13 in Haverstraw. 
2017 must also be the year we finally legalize ridesharing like Uber and Lyft. I'm optimistic we will soon be joining the rest of the civilized world in offering residents more options to get around.
Holding Banks Accountable for Zombie Properties
One of the 2016 legislative session's top accomplishments was taking concrete steps toward clearing up the zombie property blight that exists in many neighborhoods, a measure that I spent a great deal of energy pushing for. 
The large Wall Street banks that hold the vast majority of New York's mortgages often sit on or delay foreclosure proceedings, leaving unmaintained, vacant properties languishing for years on end. 

The new law that I championed that took effect last month now requires banks to properly maintain zombie properties during the "pre-foreclosure" period - the time, often years, when the properties are stuck in court and the banks do not technically own them yet. Failure to maintain properties will result in a $500 per day per property fine for these big banks - and given firms like JP Morgan, Wells Fargo, and Bank of America hold thousands of these mortgages, those fines will add up quickly if they ignore the law. 
Fighting for Ethics Reform
You may have noticed passing ethics reform is never an easy thing to do in Albany. Nonetheless, I've never stopped pushing on a number of items that, I believe, are important to cleaning up our state government. These include limiting or banning outside income for legislators and closing the notorious LLC campaign finance loophole that was on full display during the veto of my annexation oversight bill. 
While outside income and the LLC loophole remain ongoing fights, there was one critical victory that I've long advocated for: pension forfeiture. Pending voter approval of the constitutional amendment at the ballot box, corrupt politicians will soon no longer be able to collect their taxpayer-funded pensions from behind bars. 
Thank You
Again, I want to thank you for affording me the privilege of representing you for another two years. My continued pledge is to always work hard - 24/7 - and fight for our community's best interest. 
My door is always open: always feel free to contact me at SkoufisJ@nyassembly.gov or 845-469-6929. You can also visit our local office at 11 Main Street in Chester. I welcome your ideas, opinions, and feedback, and look forward to the year ahead! 
With gratitude,
James 
---
---
New York and this nation were founded on the premise that we are all created equal. In the weeks that have followed the election, that promise has rung hollow for too many New Yorkers and Americans. 

Hate crimes have spiked across the country and this state has not been spared. This week, fliers glorifying the KKK were found distributed on cars in Suffolk County. Last week in Allegany County, a softball field dugout was defaced with the words "Make America White Again," accompanied by a spray-painted swastika. These are just a few examples. My administration has launched a number of investigations into hate crimes targeting minorities and immigrants. and immigrants. 

I call on all public officials, of all parties, and indeed, all people everywhere, to denounce and repudiate these expressions, and to pledge to punish to the full extent of the law anyone engaged in such acts. To remain silent is to engage in a dangerous new permissiveness that threatens our American way. 
Residents who have experienced bias-motivated threats, harassment or discrimination are encouraged to call our toll-free hotline at (888) 392-3644 from 9 a.m. to 5 p.m. Monday - Friday. If you want to report a crime or fear for your safety, call 911 immediately.

Let me be very clear: These acts of hate and intolerance go against everything New York stands for. We have welcomed generations of immigrants with open arms. This state will continue that proud legacy – we will not turn our backs and we will not let this heated rhetoric divide us. 

We will stand strong united in the face of intolerance and show the world that we are one people, one family, and one New York. 

Sincerely,
Governor Andrew M. Cuomo
---
An Open Letter from Gov. Andrew Cuomo - NY Daily News, Nov. 12, 2016
"If Trump Governs Unjustly, We'll Fight at Every Turn"
Last night, the New York Daily News published an open letter I wrote with my thoughts fgllowing Tuesday's election. The letter can be found below.

Those of us who have spent time in politics know that losing is part of the experience. Still, Secretary Hillary Clinton's defeat on Tuesday was a particularly difficult experience, heartbreaking and bewildering and indeed frightening all at once. I wanted to share some thoughts on how we must acquit ourselves in the days ahead.

As Clinton said, when Donald Trump takes office, we will owe him an open mind and a chance to lead. The fate of the ship always takes precedence over the identity of the captain, and we must loyally do our part to protect the ship.

The night he became commander-in-chief, Donald Trump said he wanted to be President of all Americans. Despite the divisiveness of the campaign, he has an opportunity to live up to that promise by acting first on issues where there is common ground with his opponents. He said he wants to govern on behalf of forgotten Americans, and any time he does that, he can count on both Democrats and Republicans to help him achieve success.

Trump also said that he wants to rebuild America's infrastructure. In that effort, he will find New York a willing partner as the Tappan Zee Bridge, a new La Guardia Airport, a new cross-Hudson Tunnel, and a revitalized Penn Station continue to rise.

But while we honor America by honoring the results of the election, we will fight as fiercely as we can, at every opportunity that presents itself, to reject the hateful attitudes that pervaded throughout the 2016 campaign. We cannot unhear what we have heard. The voices of the Ku Klux Klan, white nationalism, authoritarianism, misogyny and xenophobia. A generally disdainful view of American ideals.

We all hoped that when we woke up on Nov. 9 the ugliness of this campaign season would finally be gone. But on the day after Election Day, a swastika and the words "make America white again" appeared, spray painted on a softball dugout in Wellsville — in our state of New York.

I cannot and will not pretend that these things are normal even if millions of Americans voted for a campaign either because of these values or in spite of them. I know there are millions more people like me — both Democrats and Republicans who reject them. As I said on other occasions, this election was for the soul of America, and that is why today so many of us feel as we do today; we are soul sick. But as we accept the results of the election, we do not accept these positions.

Americans fought these attitudes before the 2016 election, and we will fight them for as long as it takes to vanquish them. That is our mission, and our dedication to its success does not depend on the occupant of the White House. Americans pledge themselves to "one nation, indivisible, with liberty and justice for all." One election does not erase that commitment.

We Democrats are not without resources. In Chuck Schumer and Nancy Pelosi, Democrats in Congress have leaders who are brilliant parliamentarians, and who will advance our causes even as they will provide a bulwark for our values. But let us also look to our state governments as places where progress can be made. One of the reasons why so many of the programs of President Roosevelt's New Deal proved effective is that he had tried them out while he was governor of New York. Initiatives like Marriage Equality were enacted in New York and other states before they became the law of the land. Congress has refused to act on gun control, but we enacted a tough law in New York, and California, Nevada, and Washington strengthened their gun laws on Tuesday.

While the world struggles to come to consensus on how to combat climate change, we in New York have banned fracking and set a renewable energy standard requiring 50% of our electricity to come from renewable energy sources like wind and solar by 2030. This year in New York State, we enacted a $15-an-hour minimum wage, the nation's best Paid Family Leave program, and dedicated more funding to education than ever before. And in this state, we accomplished these successes with a divided legislature: Democrats and Republicans coming together, proving you can be progressive and bipartisan. Indeed, there is more than one path to progress.

Soon enough we will see what proposals will find their way into the President-elect's agenda. Already it seems almost every far-right Republican under the sun is seeing Trump's electoral college victory a mandate to enact sweeping ideas and radical proposals, regardless of the pain that is inflicted and the turmoil that is caused. I have great faith that common sense will eventually prevail, and that our traditional American values of justice, liberty and equality will eventually rule the day. In the end, they always have.

Both Democrats and Republicans have fought for these values throughout our nation's history — from the time when Abraham Lincoln declared we were a nation with malice toward none and charity for all, to when a young Senator from the State of Illinois said: There's not a black America and white America and Latino America and Asian America; there's the United States of America. The way has not always been easy, nor has the cost been cheap; but for whatever this moment demands of us, we are ready.

My father Mario Cuomo spent his entire life fighting against the death penalty, even when it wasn't popular, even when it cost him the governorship, because he knew it was right. I will fight against the targeting of Muslims, immigrants, the LGBTQ community, and for the rights of all Americans every day I hold office and every day after that.

For our values, for our rights, for our vision of America, for the people who depend on us, we will fight. And for that, we are unwilling to compromise.

Andrew  
---
Times Herald- Record, July 18, 2016
Editorial: Valley View answer raises old questions 
The Valley View nursing home turned a profit last year.

That bears repeating.  

The Valley View nursing home turned a profit last year.

And it also bears repeating as an accomplishment because as it turns out, this was not that hard.  

[more ...]
---
Dear Friend, 

The Democratic National Committee has put forth what has been hailed as the most progressive policy platform in its history. As New York Democrats, we are proud to see the $15 minimum wage as part of the official platform of the Democratic National Convention, which marks a major victory for America's working families.

President Obama has led our economy's resurgence with 75 straight months of private sector job growth that added 14.5 million new

jobs, and twenty million people have gained health insurance. Despite this progress, wages have stagnated, racial and gender wealth gaps remain, and costs have gone up. 

The #FightFor15 saw historic success thanks to the leadership of Governor Andrew Cuomo and New York Democrats. In 2015, New York led the nation by becoming the first state to set a $15 per hour minimum wage for fast food workers. And then we did it again earlier this year, as Governor Cuomo successfully pushed for New York to enact a $15 per hour minimum wage across all industries for all workers. Working full-time should not mean you have to raise your family in poverty.

We will continue to lead the nation in championing the rights of workers and ensuring the promise of hope and opportunity is afforded to all working people across the Empire State. The Democratic Party has been and will always be unrelenting in the cause for economic fairness and inclusion.
Sincerely, 
Basil A. Smikle Jr. 
Executive Director 
New York State Democratic Committee 
---
July 6, 2016  |  Legislative Update for the 99th District 
Dear Friends & Neighbors,
With July underway, I hope you're in the midst of enjoying summer.  There is a lot of information to share from this year's legislative session and I'd like to take a moment to keep you up to date on the important issues I've been working on:  
Pension Forfeiture  |  Annexation Oversight  |  LLC Disclosure  |  Education  |  Infrastructure  
Paid Family Leave  |  Combating Heroin and Opioid Addiction  |   [more ... ]  
---
Don't fall for the "change the subject tactic" here.  And why isn't Larkin speaking for himself on something this serious?
Eachus rebukes Larkin for stalled Child Victims Act
Times Herald-Record "The Fray" blog | June 24, 2016  |  By Chris McKenna 
Democratic Senate candidate Chris Eachus went after Republican Sen. William Larkin Jr. this week for the Senate Republicans' resistance to the Child Victims Act, a longstanding bill that would lift the statute of limitations on charges of child sex-abuse in New York.  [more]
---
Update, June 16, 2016 from Assemblyman James Skoufis:  
The State Assembly just passed BOTH the annexation oversight bill as well as our LLC owner disclosure legislation.
The oversight bill will inject much-needed scrutiny into the annexation process and require a super-majority vote of the locally involved municipal boards in cases where the county planners recommend against annexation. 
Should the LLC owner disclosure legislation become law, shady shell companies will no longer be able to hide behind a shroud of secrecy when purchasing and selling real estate. People have a right to know who's really behind these transactions.
Both bills now await action in the Senate. The annexation oversight bill is being carried by Senator Bill Larkin; the LLC owner disclosure bill is being carried by Senator David Carlucci.
---
---
In "The Fray" by James Nani, Sunday April 17, 2016:
Skoufis bill would lift LLC 'shroud of secrecy'
Roseanne Sullivan, Orange County Legislature (18th Legislative District) 
on electing school boards in "My View" - Sun., May 1 Times Herald-Record 
---
---
April 20, 2016
From the New Windsor Dems Facebook page commenting on the Times Herald-Record Editorial 
"Why go soft on political crime?"
"There will be no letters of support from New Windsor residents who recall Dubaldi as mastermind of baseless attacks on candidates Chris Eachus, a respected NFA teacher he accused of supporting child molesters, or Diane Newlander, who wanted a dog park, or Bonnie Brennan, a respected international civil rights attorney and domestic abuse victim he accused of being a criminal."
---
The Times Herald-Record reports on April 15:  
SKARTADOS BILL OPPOSES PLANS FOR PILGRIM PIPELINE
ORANGE CO. REPUBLICANS TO PROPOSE RESOLUTION OPPOSING THE $15 MINIMUM WAGE  
The Orange County Democratic Committee and the Democratic Caucus
support the Governor's plan to phase in the increase.  
Show your support at the Emergency Services Center, 22 Wells Farm Road, Goshen 10924
[next to the Orange Co. Jail] on Friday, April 8 at 10 AM.  
If you'd like to speak you must sign up before the session.
If you don't want to speak, bring a sign [no sticks] supporting the increase,
which you can display from your seat.
April 8 - Update:  
The Orange County Republican Legislators withdrew their resolution opposing the Governor's new Minimum Wage Law and Family Leave Act at today's meeting.
April 12 - Update:
The Executive Committee of the Orange County Democratic Committee unanimously endorsed Gov. Cuomo's $15 minimum wage and Family Leave Policy at its monthly meeting.
---
 "The Fray" blog, Times Herald-Record March 17, 2016
Turnbull trades jabs with Neuhaus over county speech
A minor political skirmish broke out on Thursday when the Orange County Legislature's Democratic leader lobbed a few public criticisms at County Executive Steve Neuhaus, accusing the Republican of taking credit for national or regional economic gains and short-changing Democrats in his upbeat State of the County address two days earlier.
Matt Turnbull, a Hamptonburgh resident who became leader of the Democratic minority in January, issued a press release contending that Neuhaus' hour-long recitation of accomplishments and new plans had "glaring omissions." He cited the past battle over the county nursing home, saying that Neuhaus tried to sell it to balance the budget and that Democrats fought instead to keep it in county hands and make financial reforms. As a result, he said, "Valley View is no longer a drain on the county budget."
Turnbull also argued that Democrats deserve credit for saving taxpayers money by fighting to renovate, rather than replace, the county Government Center, and that Jeff Berkman – a Middletown legislator who preceded him as minority leader – had pushed with Middletown's Democratic mayor, Joe DeStefano, to extend the county's Heritage Trail through Middletown. Neuhaus had highlighted the impending trail extension and proposed another one – eastward into Harriman – during his address.
Turnbull said the rising job numbers and improved county finances that Neuhaus touted in his speech were really a reflection of broader economic improvements that Democrats had predicted would happen. "The County Executive is shamelessly taking credit for what is a regional and national economic trend," Turnbull wrote.
Neuhaus responded sharply – and voluminously – to Turnbull's critique. After marshaling statements of support from the Legislature's Republican majority leader, Melissa Bonacic, two Republican town supervisors and DeStefano himself, he issued a press release lamenting that Turnbull had "gone negative" and claiming Turbull "has put forth no original ideas during his tenure as a Legislator that have helped the taxpayers of Orange County."
"Taxpayers don't care about who gets credit for ideas or accomplishments, we care about tangible results," the statement read. "Everybody I speak to is disappointed with the divisive politics of Albany and Washington. We sure don't need that in Orange County. I will continue to work tirelessly to get things done for our residents."
Bonacic, quoted in the same release, chided Turnbull for being "so divisive" in his remarks. "We are moving in a positive direction and the Republican caucus intends to keep it that way, not build walls of division," she said.
On the web:  
http://blogs.hudsonvalley.com/fray/2016/03/17/turnbull-trades-jabs-with-neuhaus-over-county-speech/#sthash.skycxM35.dpuf
---
Excellent coverage and commentary by the Times-Herald Record
on Orange County Democratic Women's immigration event this past week:
---
ORANGE COUNTY DEMOCRATIC COMMITTEE ANNOUNCES 2016 CONGRESSIONAL ENDORSEMENT
At its February 9, 2016 meeting the Executive Committee of the Orange County Democratic Committee voted to endorse Congressman Sean Patrick Maloney in his re-election campaign for United States House of Representatives, New York District 18.  
In regards to the Committee's support of Orange County Democratic Committee chairman Brett Broge stated: "From day one, Congressman Maloney has been a fierce advocate for all of the citizens of Orange County and we are excited to support the Congressman for another term in the House of Representatives. Whether it's fights on behalf of our workers, our environment, our veterans, or our share of taxpayer funds for local Orange County communities, the Congressman has worked tirelessly on these issues, while at the same time representing the values and ideals of members of our Democratic Committee."
Further questions about the endorsement of Congressman Maloney by the Orange County Democratic Committee may be directed to Brett Broge at 
845-467-0326
---
Orange County, NY (Highland Mills) – January 27, 2016 
Orange County Democratic Women Proud That New York Values Include Reproductive Health Services
Members of the Orange County Democratic Women Board of Directors traveled to Albany on Monday to lobby for passage of the Comprehensive Contraception Coverage Act (A8135). The legislation brings NYS into compliance with the Affordable Health Care Act. Its goal is to correct insurance-related accessibility issues by requiring insurance to cover contraception methods for men and women with no co-pay requirement.
In addition, it provides coverage for Emergency Contraception purchased at community pharmacies without requiring physician prescriptions. This step is in keeping with the nature of emergency contraception which needs to be prompt to be effective. Delaying access in any way can make the method ineffective in avoiding pregnancy, and delays can be harmful. The third key provision of this bill is that it allows up to 12 months of regular contraceptives to be dispensed at one time. Family Planning Advocates said this is a big cost savings for taxpayers as well as users. According to studies this access has helped reduce abortion numbers in other states. The economic and health benefits of access to effective contraception add weight to the arguments of the importance of contraception. The benefits to society goes further than helping women  avoid unwanted pregnancy.
"We're happy to see the passage of this bill for many reasons. The insurance companies had tried to limit access for financial reasons but violated the spirit of the health care coverage law," said Willa Freiband, Past President of Orange County Democratic Women.  The loopholes were discovered by Attorney General Eric Schneiderman (D). 
Orange County Democratic Women Board members Willa Freiband, Cathy Hilliard and Joan Hutcher joined hundreds of reproductive health care advocates in the Capitol in Albany. The event is an annual Day Of Action organized by Family Planning Advocates of NYS. More than 500 men and women traveled to Albany – some fighting their way out of snow impacted neighborhoods. Advocates